Preview 2010: Tony's Tavern ready to roll in 2010

January 28, 2010
For immediate release: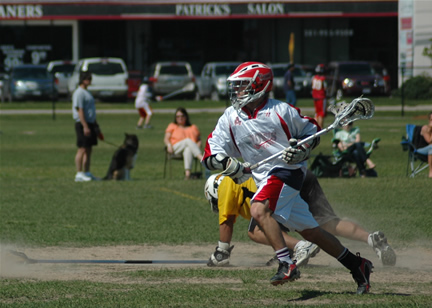 The 2010 Tony's Tavern lacrosse team season begins their 2nd season as part of the GCLA Independent Teams along with long time rival Houston Metro. They will look to face fierce opposition as they play old rivals and new teams in the ever expanding base of teams in the Texas landscape. Veterans and first year guys will have to come together as one of the most talented teams Tony's Tavern has seen to continue the winning tradition.

Tony's opens the 2010 against area rival Northwest (2/6) of the GCLA in the first of 11regular-season games. The team will travel to the Dallas/Ft. Worth area on Feb 13/14 to play Southlake and Plano/Ft. Worth from the SWLA. Other non-area match-ups include an April 10th game down in Corpus Christi as well as contests against Beaumont. Tony's Tavern will look restart their games against PBR as well. Tony's Tavern looks to have a great season as the team builds on their experience from last years as well as the support from their fans.
Tony's Tavern 2010 men's lacrosse, position by position ...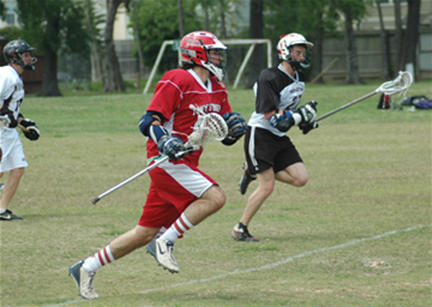 MIDFIELD

Middies Returning – Matt Ippolito (19-6-25), Colin Linggo (4-10-14), Dexter Spriggs (8-4-12), Kyle Nelms (4-1-5), Ben Powell (5-0-5), Tim Glass (4-0-4), Brad Hickenlooper (1-1-2), Blake Stoker (1-0-1), Matt Shearer (0-0-0), Jacque Passino (0-0-0), Ken Kneisly(0-0-0). Midfielders lost – Mikey Isaacson, Reid Singleton & Jimmy Constable. Newcomers – Lucas Moss, Steve Guterman, Andy Woodman
Outlook - The main core of the midfield unit returns adding some veterans returning to the team and a new face to add extra depth, Tony's Tavern will have arguably its best midfield unit ever. It starts with face-offs through Moss and Stowe. This dynamic duo will look to get Tony's off and running every face-off this year and improve on their fast break opportunities from 2009.
Matt Ippolito had a great year in 2009 and tallied 25 pts to lead all middies. Ippolito brings his great defense and clearing ability back to the team in 2010. He will look to continue his contributions on offense, defense and the clearing game during the 2010 campaign. Matt Shearer will look to return after a year off and should bring back his big game scoring ability and leadership. Colin Linggo helped the midfield on offense in 2009 playing more midfield than attack for the first time. He gave the midfield a good offensive weapon and feeder. He finished 2nd in points on the midfield with 14 and looks to contribute more in 2010 while maintaining some runs at attack. Dexter Spriggs returns to the team contributing to the midfield at both ends of the field. His knowledge of the game and offensive skills will be an asset to the team again in 2010. Tim Glass continued his great all around play especially in transition and wing play. Glass was an unsung hero with his great defense and clearing ability due to his great speed. Tim is an important part of the midfield unit and will help lead the way once again. Kyle Nelms is another solid team player that brings his lock down defense back to Tony's in 2010. Nelms has been a great defender for the team and stepped up big on the offensive end scoring big goals vs. Metro to secure the victory. Jacque Passino returns to the team in 2010 after missing a lot of 2009 with coaching conflicts. Jacque has great face-off abilities and looks to do more facing-off in 2010. Blake Stoker continued his team first play and helped on offense and defense. Stoker was named 2009 Heart Award recipient for is dedication to the team, especially since he drives 2 hours for home games. Ben Powell had another good year using his athleticism and knowledge of the game. Powell came up with 3 goals vs. Corpus to help secure the victory and he will look to come up big again in 2010. Brad Hickenlooper had a solid year and proved a great contributor to the team both on offense and defense doing the little things to help the team win. Hickenlooper is a valuable player to Tony's for his knowledge of the game and ability to move the ball up field on clears. Ken Kneisly came to the team late in the season and hopes to contribute more on offense and defense in 2010.
Newcomers: Lucas Moss joins the team after a standout career at Texas A&M. Moss will bring his superb face-off skills and tough defense to Tony's. Moss will look to show his all-around skills and put a couple in the back of the cage when all is said and done. Steve Guterman brings his speed and transition game skills to the team and comes from Albany, NY. Andy Woodman will look to contribute on offense for the midfield. Woodman comes from University of Wisconsin and should be a mismatch for most short stick defenders. He has attack man skills and should cause a lot of mismatches, which can only benefit the team. Tony's Tavern has a great midfield unit with lots of talent and depth which they will need to take full advantage of as they face an 12 game schedule in 2010.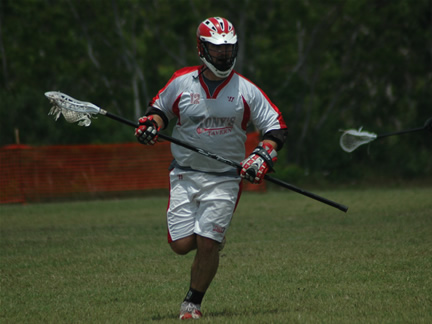 LONGSTICK MIDFIELD

Returning – Brandon Stowe. Newcomers – Drew Prochaska, Nick Reinsvold.

Outlook – Brandon Stowe stepped up big all year long at longstick midfield and with his face-offs. He will once again pull double duties and at times was the only face-off guy. He continues to be a team die hard and dedication is shown each game. Stowe will help Tony's on the wings during face-offs and stop opposing fast breaks.
Newcomers – Drew Prochaska joins Tony's Tavern after a career at Texas A&M. His experience and clearing ability will help at the position. He is a natural long pole and will help in shutting down the other team's top middies. He can run all day after ground balls and opponents.
Nick Reinsvold is a standout defender and all conference MCLA selection from Texas A&M. He brings great shut down defense and athletic ability to the team and will be a big bonus in 2010.
These three should provide a great service to the midfield defense and cause problems for the opposing offenses all year.
FACE-OFF

Returning – Passino, Stowe. Lost – Isaacson, Singleton. Newcomers – Moss.

Outlook – Stowe returns after a tough year splitting time between LSM and facing off. Which, at times he did alone with no other face-off men. This year newcomer Moss will look to take a bulk of the face-offs along with Passino and Stowe. This trio will look to continue fast starts and season long domination at the face-off X. They will return to bring a combination of power and technique. Face-offs will be a key this year as Tony's Tavern looks towards non-league games. Tony's will miss both Isaacson and Singleton, but should have a great combo at the X during 2010.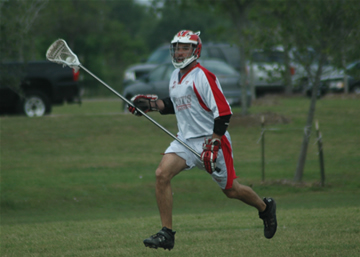 DEFENSE

Returning – Nathan Daniels (2-0-2), Brad Cook (0-0-0), Josh Long (0-0-0), Andy Krebs (0-0-0). Newcomers – Jason French.

Outlook – Tony's Tavern returns the bulk of their defense led by Nathan Daniels (2009 Def. MVP). He is joined by some really talented players in Brad Cook, Josh Long, and Andy Krebs. Daniels will lead the way with great position defense, checks and the ability to clear the ball with his legs. Cook will continue to throw precise take away checks, get loose balls and keep the crease clear in front of Kozarsky and Markeloff. Long(Newcomer of the year 2009) came to Tony's Tavern in 2009 and made an immediate impact showing his skills from playing in Maryland by routinely taking the stick and ball away from attackmen and throwing great clearing passes. Krebs had a solid season on defense in 2009 helping play good position defense and picking the ground balls. Joining the group this year will be Jason French from Texas A&M. This looks to be the best and most talented defensive unit that Tony's has had.
Daniels returns to lead the defense after a great 2009 shutting down many of the best offensive players in the state. Daniels has been a stand out defender for the team and will continue to take on the on all challengers from the offense. Daniels will continue to be a leader on the defensive end of the field in 2010. Cook had another great year due to his great defense and shutdown ability that he exhibits every game. Cook continues to show the skills that made him a great player at Georgetown with his clearing ability and great field vision. Andy Krebs had a solid 2009 playing tough defense and helping in the clearing game. He will return with the same intensity and be a vital part to the defensive unit. Josh Long was Newcomer of the year in 2009 and showed why on the field. He is a relentless checker and took the ball and stick from a lot of the best players in Texas. He brings skilled position defense and take away checks against all opponents. French joins the team after a playing career at A&M. He is known for great stick skills and speed. He will bring his tough defense and clearing ability to the 2010 close defense unit and will help them maintain their elite status. Cook, Daniels, French, Krebs and Long are expected to all start and make a major impact for the defensive unit this spring. This looks to be the most talented unit the team has had.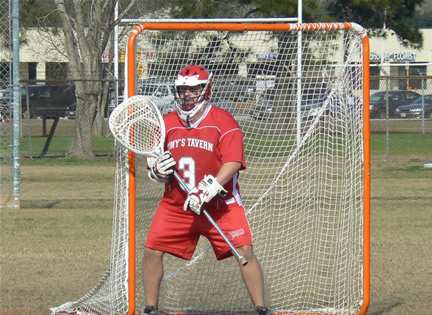 GOALIE

Returning – Rene Kozarsky (11 saves, 1 GAA, 92 save %), Eric Markeloff (68 saves, 3.75 GAA, 70 save %). Lost – none.
Outlook – Rene Kozarsky will return in cage in 2010 as a goalie and quarterback of the defense. This will be his farewell season as he prepares for the World Games with Team Mexico and will be retiring upon completion of the tourney. Kozarsky is the last remaining founding member from the Club Texas team started in 2000. His clearing ability will help Tony's Tavern continue to dominate between the pipes along with a great transition game. He will look to anchor the defense that posted 2 shutouts in 2009 and killed 70% of the man-down opportunities. Eric Markeloff will look to have another solid year at goalie. Markeloff saved 70% of the shots he faced in 2009 and will look maintain that in 2010. Markeloff started 8 games last season in goal including winning the GCIT finals. Markeloff came up big in games vs. Corpus, Metro and posted 1 shutout against Southside. Both goalies are seasoned veterans and each will start games during the 2010 season.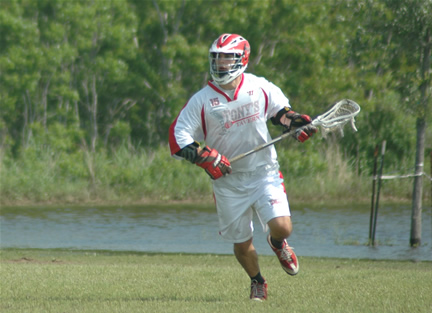 ATTACK

Starters returning – Bobby Jee (26-23-49), John Dolny (23-13-36), Tim Loveless (19-14-33), Rene Kozarsky (14-4-18). Returning from Injured list - Jeff Mazzolini (0-0-0).

Outlook – The attack comes back for another year. In 2009 they were very well balanced as a unit with Bobby Jee leading the way in scoring with 26 goals, Dolny with 23 and Loveless with 19. All 3 tallied double digit assists and got all their teammates involved. Kozarsky played part time attack along with goalie duties and came up with 18 pts. John Dolny returns after a great first year at Tony's being garnering both 2009 Team and Offensive MVP awards. Dolny is a dynamic player that is a threat anywhere on the field and at times helped out with clearing the ball at midfield. He will return this season to help Tony's Tavern win games. Loveless continued his great play at the offensive side of the field. His knowledge of the game and offensive skills make this an explosive and dangerous unit. Loveless tallied 33 points and contributed to keeping the offense moving. He is relentless at ground balls and many times took the ball from midfield to settle the offense. Kozarsky will look to play less attack and more goalie during 2010. He still does show why he has been an offensive weapon in the area for over a decade. Kozarsky tallied 18pts while splitting time at goalie and attack. Jee will look to come back with another strong offensive year as he led Tony's Tavern in goals, assists and total points in 2009. Jee looks to help keep the unit as an offensive force in 2010 with all veterans returning. Jee will look to keep the offense moving in 2010 and create opportunities for his teammates and himself. Jeff Mazzolini will return in 2010 after a knee injury sidelined him in 2009.
The 2010 season looks to be one where the unit learns from past experiences and continue to keep the offense on top of its game to help win ball games.
Tony's Tavern looks to have another successful spring season in 2010. There will be a new faces and new opponents along the way. The long time veterans will lead the way and make this one of the best teams in the team's history on and off the field.