The 2008 Tony's Tavern lacrosse team season begins the season as the reigning back to back GCLA Champs. They will face fierce opposition as they look to increase their winning streak and defend their title in the 2008 season. Veterans and first year guys will have to come together as one of the most talented teams Tony's Tavern has seen to continue the winning tradition.

Tony's opens the 2008 with a home game against Bayou City Sunday (1/13) in the first of 12 regular-season games. The team kicks off its GCLA schedule on 1/27 against Lonestar. Tony's will only have one showdown with Metro this year on April 6th. Other non-area match-ups include a March 29th game down in Corpus Christi as well as a contest against Alamolax. The team is still looking to add one more trip to play some other non-conference opponents in the DFW area. Tony's Tavern looks to have a great season as the team builds on their experience from last years as well as the support from their fans.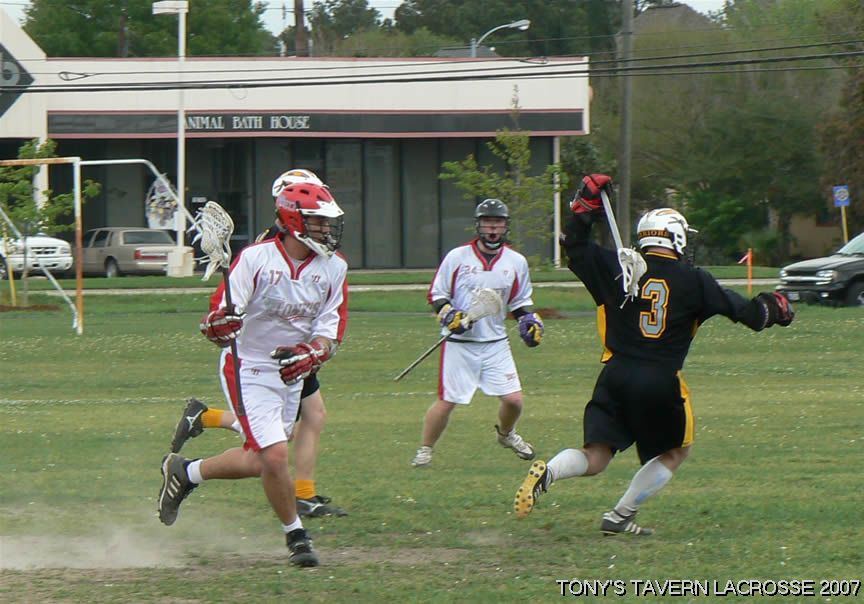 Tony's Tavern 2008 men's lacrosse, position by position ...

DEFENSE

Returning – Nathan Daniels (0-2-2), Brad Cook (0-2-2), Matt Walton (1-0-1). Lost – none. Injured – Chris Wilkie. Newcomers – Michael Dufour.

Outlook – Tony's Tavern returns the bulk of their defense led by Nathan Daniels, Brad Cook and Matt Walton. Daniels and Walton will lead the way with great position defense, checks and the ability to clear the ball with their legs. Cook will continue to throw precise take away checks, get loose balls and keep the crease clear in front of Shearer. Joining this highly talented defensive unit is A&M standout Michael Dufour. This looks to be the best and most talented defensive unit that Tony's has had.
Daniels continues as a great position defender who also has stealth take away checks and great clearing ability. Daniels will continue to be a leader on the defensive end of the field in 2008. Walton will once again bring his high intensity defense and relentless pursuit of the ball to the team. Walton has great experience and leads by example and is always ready to move the ball up field with his legs. Cook was named Newcomer of the Year due to his great defense and shutdown ability that he exhibits every game. Cook showed the skills that made him a good player at Georgetown in 2007 with his clearing ability and great field vision. Michael Dufour joins his brother on Tony's Tavern and will bring his skilled position defense and take away checks to the team in 2008. Cook, Daniels, and Walton are expected to start and make a major impact for the defensive unit this spring. Dufour will also, see time starting with his hard checks and ability to clear the crease at any time. This looks to be the most talented unit the team has had.

GOALIE

Returning – Mike Shearer (76 saves, 23 GAA, .77 save %), Eric Markeloff (12 saves, 4 GAA, .75 save %). Lost – none
Outlook – Mike Shearer will return in the starting role for 2007 and quarterback of the defense. His quickness and great clearing ability will help Tony's Tavern continue to dominate between the pipes along with a great transition game. He will look to anchor the defense that posted 2 shutouts in 2007 and killed 80% of the man-down opportunities. Eric Markeloff will have return to the team as the 2nd goalie and more than capable back-up. Markeloff saved 75% of the shots he faced in 2007 and will look maintain that in 2008. Markeloff will continue his role as the team's indoor goalie.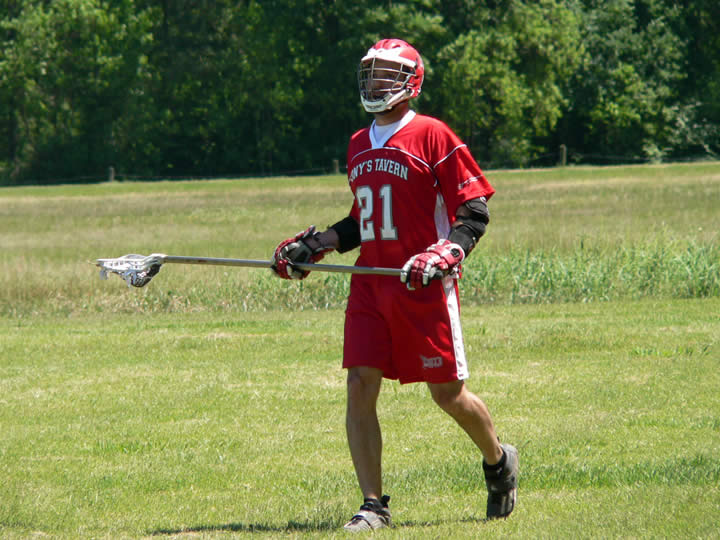 MIDFIELD

Middies Returning – Dexter Spriggs (13-9-22), Matt Shearer (15-5-20), Justin Hill (15-3-18), John Mitchell (8-4-12), Brandon Stowe (3-4-7), Tim Glass (3-2-5), Brian Dufour (2-2-4), Blake Stoker (3-1-4), Kyle Nelms (1-1-2). Middies lost – Joel Hill, Mikey Issacson. Injured – Jimmy Constable (1-0-1). Newcomers – George Drogaris, Tim Loveless, Reid Singleton.

Outlook - With the main core of the midfield unit returning and highly talented new comers to add extra depth, Tony's Tavern could have its best midfield units ever. It starts with face-offs and Drogaris, Hill, Singleton and Stowe will look to get Tony's off and running every face-off this year and improve on their high percentage of face-off wins from 2007. Dexter Spriggs returns after his first full year playing for Tony's. His leadership, scoring and passing ability made him a key player in 2007 and earned him Team MVP honors. Matt Shearer will look to continue his leadership on the field as well as his big game scoring ability as he finished 2nd among middies in points with 20. Playing both middie and attack saw Justin contribute 15 goals to give the team a great amount of options at attack. Justin tallied 18 total points and had 6 goals in the playoffs. John Mitchell joined the team in 2007 with a bang tallying 12 points and immediately making an impact with great cuts and finding open spaces for easy shots. Brandon Stowe stepped up big all year long with his face-offs and at times was the only face-off guy. Stowe also, found the cage and picked up a few assists along the way. Tim Glass continued his great all around play especially in transition and wing play. Glass was an unsung hero with his great defense and clearing ability due to his great speed. Brian Dufour was a great asset to the team playing middie and filling in at attack a few times. Brian's understanding of the offense should net him more assists and goals in 2008. Blake Stoker continued his team first play and helped on offense and defense. Jimmy Constable had a shortened season due to work and injury and will look to be back fall of 2008. The team is excited to get standouts: George Drogaris, Tim Loveless, and Reid Singleton who all join the team in 2008. Drograis known mostly as for his face-offs will bring his great speed and knowledge of offense and defense as well. Loveless joins the team after starring at St. Lawrence University. Loveless is a dominating force as a feeder and scorer. Loveless will rack up a lot of points in 2008 and help Tony's on both offense and defense. Singleton comes to Tony's after a great career at North Texas where he dominated at all areas of the field. He will bring his face-off ability and scoring ability to a talent midfield unit. Joel Hill quit this year. Tony's Tavern has a great midfield unit with lots of talent and depth which they will need to take full advantage of as they face an 11 game schedule in 2008.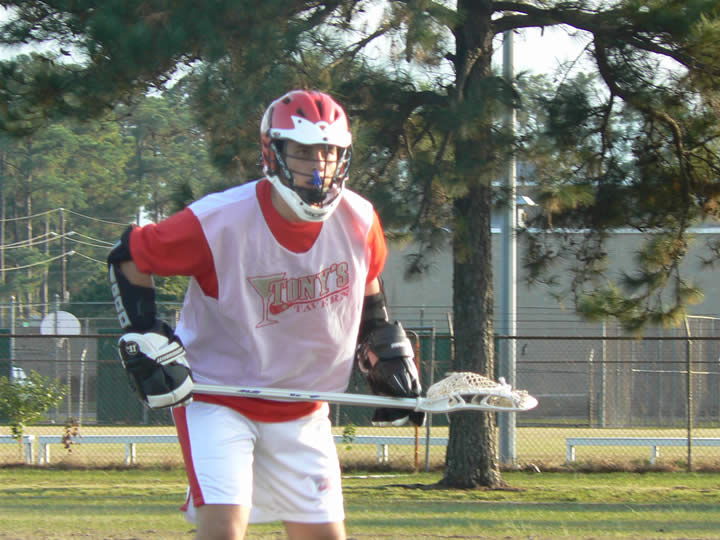 LONGSTICK MIDFIELD

Returning – Colin Gittings (2-0-2), Cole Nowak. Lost – none.

Outlook – Colin Gittings and Cole Nowak should continue to split time at the long stick midfield position. Both have the ability to create transition along with the ability to neutralize a team's top scoring midfielder. Gittings speed will help Tony's on the wings during face-offs. Nowak will continue to play ball control defense and slow down over ambitious middies.

FACE-OFF

Returning – Justin Hill, Brandon Stowe. Lost – none. Newcomers – George Drogaris, Reid Singleton.

Outlook – The combination of Hill and Stowe last year helped Tony's Tavern continue fast starts and season long domination at the face-off X. They will both return to bring a combination of power and technique. Face-offs will be key this year as Tony's Tavern looks to add some non-league games. Joining the group will be 2 fresh faces that bring their own list of awards as outstanding face-off guys. Reid Singleton and George Drogaris will be able to add speed on the face-offs and bring the fastbreak face-offs to help Tony's get out to big leads early on.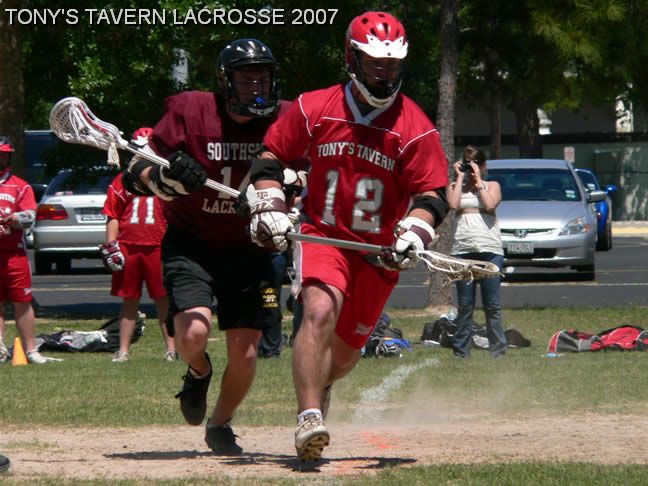 ATTACK

Starters returning – Bobby Jee (28-15-43), Jeff Mazzolini (10-23-33), Rene Kozarsky (19-12-31). Lost – None. Other returning attack – none. Newcomers – Jason Dunn, Colin Linggo

Outlook – The attack comes back for another year. In 2007 they were very well balanced as a unit with Bobby Jee leading the way in scoring with 28 goals, Jeff Mazzolini tallying 23 assists, and Rene Kozarsky with 19 goals. Jeff Mazzolini continued with his top feeder role as he had 1 goal & 8 assists vs. Southside. Kozarsky will look to bring balance to the attack as a scorer and feeder. Kozarsky put in an astounding 7 goals vs. Sam Houston giving him back to back seasons with a 7 goal game. Jee will look to come back with another strong offensive year as he led Tony's Tavern in goals and total points. 2007 was highlighted for Jee by a 6-goal, 3 assist effort vs. Southside. Colin Linggo joins the group in 2008; bringing in his experience from playing at Loyola and both his accurate shooting and nice feeding to make the unit stronger. Jason Dunn joins Tony's Tavern after moving back to the Houston area and adds one more A&M almunus to the team. He brings his well balanced game and rocket shot to give defenses one more option to worry about. The 2008 season looks to be one where the unit learns from past experiences and adds some new blood to make the attack unit stronger and among the best in the league.